SkyMark Refuelers / FlowMark / RailTruck | RECAPITALIZATION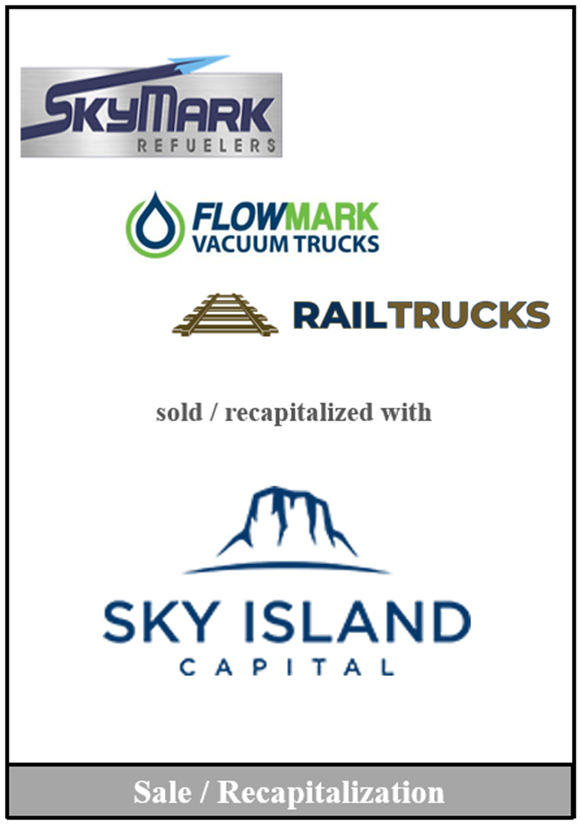 Engagement
Recapitalization, Sale
Frontier's client achieved its "partnership objective" by selling to, and joining forces with, Sky Island Capital to assist in funding and executing the client's growth plan
Client
Our client is a market leading manufacturer of custom work trucks serving niche end-markets: the aviation refueling, liquid waste removal, hi-rail maintenance, direct-to-locomotive refueling, and refined fuel delivery industries. In less than a decade, the Company has become a leader across such end markets due to its founders' expertise and due to its ability to attract a world-class leadership team.
SkyMark produces the world's most technologically advanced aircraft refueling vehicles in the world, with equipment in service at airports across more than 40 countries. FlowMark is the nation's largest source of vacuum tanks, chassis, and complete vacuum trucks for liquid waste removal. The Company's affiliate manufactures vacuum tanks for use in FlowMark trucks and for sale to third-party customers. RailTruck designs and builds specialized hi-rail trucks and direct-to-locomotive refueling trucks for customers in the rail industry. The Company's customers are the largest players in each of its respective end-markets, in addition to supplying the U.S. military, the federal government, and state and local governments.
Leveraging the Company's market-leading core competencies, the Company developed a growth plan to prudently, but explosively, grow within its existing markets and into new markets. The business is positioned to grow organically by launching new products into existing and new markets and to grow through acquisitions by executing identified acquisitions to vertically and horizontally integrate.
Situation
The Company was seeking to "partner" with a proven financial player to invest capital (alongside the owners) to fuel the Company's growth plan, to monetize a portion of the owners' equity, and to allow the owners to monetarily participate in the anticipated future growth of the business.
Results
Professionally orchestrating a competitive process which amplified the Company's success and its just-add-capital growth plan, the Company received a double-digit number of impressive offers from the most proven financial firms in the sector. Through extensive due diligence on the potential buyers, the Company's owners were able not only to select the best-fit financial buyer to assist in capitalizing on the Company's potential for explosive growth, but also to sell the business at a premium valuation.