Fire Door Solutions | SALE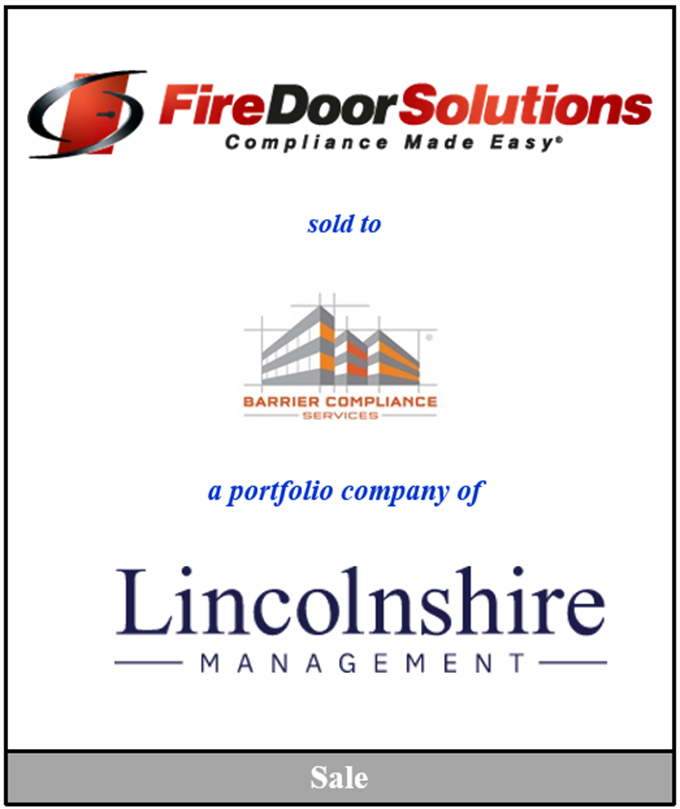 Engagement
Sale
Fire Door Solutions sells to Lincolnshire Management's portfolio company, Barrier Compliance Services
Transaction Description
Client
Fire Door Solutions is a leading nationwide provider of Fire and Life Safety compliance and protection services, primarily for the healthcare facility market. The Company provides fire door, fire damper, and firestop inspection and repair services, as well as life safety consulting and related facilities management services.
Fire Door Solutions experienced explosive organic growth from the launch of its business in 2013. In addition to that organic growth, the Company acquired a business specializing in fire stopping inspection and remediation services with a focus on the healthcare market on the East Coast. Fire Door Solutions also acquired another business that provides fire door inspection, repair, and recertification, in addition to forming a strategic partnership with another business that provides life-safety plans for health care facilities.
Situation
After experiencing rapid and sustained growth that propelled the Company to a leading status in the passive fire compliance and protection industry, Fire Door Services sought to find a strategic partner with synergies to accelerate the growth of its strategic growth plan and to capitalize on the trends in the growing Fire and Life Safety compliance and protection industries.
Results
Frontier orchestrated multiple marketing and sale processes that produced a significant number of offers spurring intense competition to buy the Company's business or to partner/recapitalize the business. The competition from the processes allowed the Company to thoroughly  analyze and diligence numerous different potential buyers as that potential "best-fit partner" to accelerate the growth of the Company's strategic growth plan. The result of the processes was that Fire Door Solutions was able to choose the best partner to accelerate its strategic growth plan, executing that business combination through a sale transaction at a remarkable valuation.