Safari Belting | SALE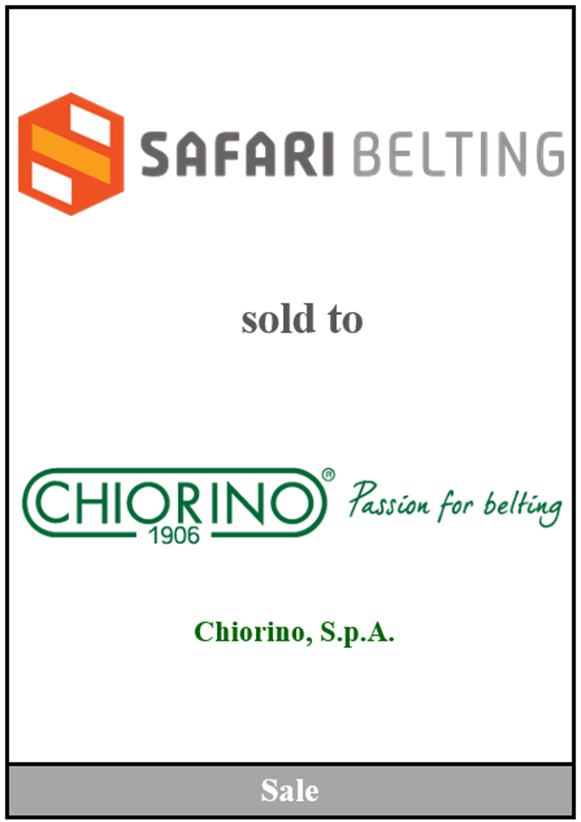 Engagement
Sale
Chiorino, S.P.A., a worldwide leader in the production of conveyor and process systems headquartered in Italy, acquired Frontier's client
Client
Safari Belting is a fully-integrated, plastic belting manufacturer with over 400 belt styles to service a wide range of industries and applications. Leveraging its initial product development, the Company's patented products gained valuable market acceptance and rapidly generated revenue by addressing the problematic need for frequent belt replacement in the meat processing industry.
Safari's plastic modular belting system is the only solution in the market that can simultaneously withstand high-level drop impacts, prolonged exposure to harsh chemicals, and excessive wear from friction and abrasion. The products, which include an "eco-friendly" polymer material, are fully interchangeable with existing conveyor systems, as well as being more sanitary, stronger and easier to repair. By establishing a new benchmark, the Company became the leading innovator of food safety innovations and belting solutions to one of the most highly visible segments of the belting/conveyor systems world.
Situation
Safari received a couple of unsolicited offers to acquire the Company – which offers and initial discussions provided confirmation as to the international appeal of Safari's products.
Results
In order for Safari to fully explore the unsolicited sale opportunity and to potentially pursue and optimize that potential opportunity, Frontier was engaged to professionally orchestrate an investment banking process. Without slowing the momentum of the discussions with the interested parties providing unsolicited offers, Frontier expeditiously contacted other domestic and international potential buyers generating compelling interest at premium valuations, with the Kansas City Business Journal providing that Safari was "acquired at a multiple of 20 times annual earnings."* The process culminated with Safari choosing to sell to Chiorino, a worldwide leader in the production of conveyor and process systems since 1906, and Safari becoming Chiorino's U.S. headquarters. *https://www.bizjournals.com/kansascity/news/2021/08/31/chiorino-safari-belting-systems-acquisition-olathe.html