Family Office | BUY-SIDE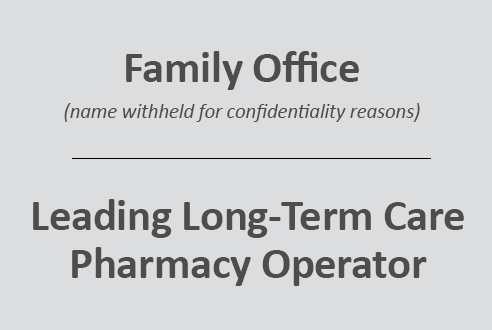 Engagement
Buy-Side, Strategic Advisory
Frontier acted as an exclusive financial advisor to, and assisted with the negotiations as representative of, our family office client in consummating the transaction.
CLIENT
Our client, a family office investor with a substantial, diversified investment portfolio, sought to make alternative investments. Our client's objective was to make a control private equity investment in an operating company.
SITUATION
Frontier identified several acquisition opportunities for our client. With Frontier's guidance, our client eventually chose to acquire a long-term care pharmacy operator that focused on serving developmentally disabled patients in long-term care facilities in the Denver, Colorado and surrounding mountain region.
RESULTS
Frontier assisted and advised our family office client in identifying, vetting, conducting due diligence, negotiating, and closing on a successful acquisition. The target company, with an extended history of steadily growing cash flow, was conducing a competitive bid process. Frontier adeptly navigated the process, and the acquisition was accomplished for a reasonable EBITDA multiple. Frontier also assisted in obtaining and optimizing senior debt financing to assist in our client's funding of the acquisition.