C2FO | GROWTH CAPITAL: $200 Million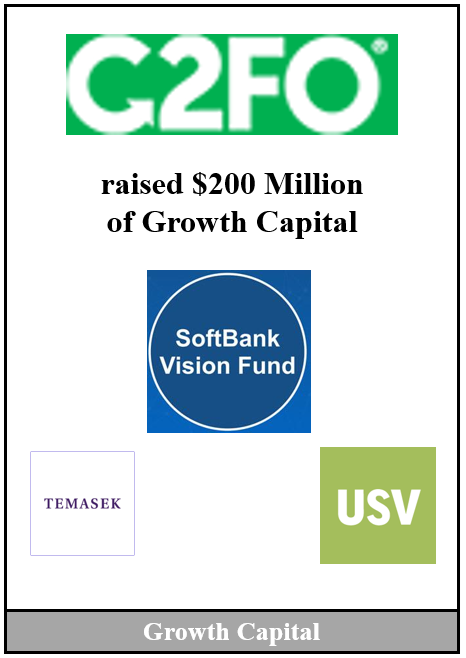 Engagement
Capital Raise
Frontier's client raised $200 Million of Growth Capital from Softbank, Temasek, and USV
---
Client
C2FO is the world's largest platform for businesses around the globe to access working capital solutions. Utilizing an online marketplace, the Company connects businesses that want cash with those that have cash – generating cash flow through early payments of invoices from customers, accounts receivable financing, and other lending options. Formed in 2008 by Kansas City entrepreneur and visionary, Sandy Kemper, C2FO today links more than 300,000 businesses across 173 countries to manage more than $1 Billion in funding every week.
C2FO is a payment management platform that helps businesses receive payment on contracts on expedited terms. Essentially, small businesses working with large businesses can elect a small discount on a receivable to receive the payment more quickly, allowing small businesses more control over cash flow management. Conversely, large businesses can enjoy the benefit of getting small discounts on its receivables to effectively leverage cash positions/payments and provide a small boost in returns on cash. The Company serves over one million businesses representing $10.5 Trillion in annual sales across more than 180 countries. C2FO's online platform connects more than $110 Billion of daily accounts payable and accounts receivable.
Situation
As a follow-on of a $100 Million capital raise to fuel the Company's expansion of its sales/marketing efforts and its cash management services, C2FO was looking to accelerate its international development of new markets for increasingly improved access to working capital for companies – not just large multinational corporations – but small and medium-sized enterprises as well.
Results
Frontier's advisory services meaningfully contributed to C2FO meeting its growth capital objective of raising significant capital ($200 Million) – at an attractive valuation of over $1 Billion. Moreover, that capital came from strategically-connected investment partners: Softbank, Temasek, and USV. According to online publisher Techcrunch, C2FO entered fairly exclusive territory as a "unicorn" – a privately held company valued at more than $1 Billion. Additionally, pursuant to Pitchbook's research, the $200 million investment was the largest investment in Kansas City history.