Leading Specialty Hauler of Hazardous Materials | MANAGEMENT BUYOUT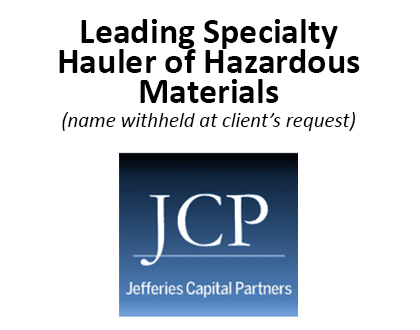 Engagement
Acquisition Financing
Frontier's client executed a Management Buyout with its management team partnering with Jeffries Capital Partners
---
Client
Frontier represented an outside management team (the "Management Team") with substantial experience and success in managing and growing specialty niche carriers in the trucking industry.
Situation
The Management Team identified a target company with a strong niche leadership position, high operating margins and excellent continued growth prospects, but with customer concentration and other issues relating to the several niches the company served. Frontier successfully negotiated an exclusive Letter of Intent to acquire the company on favorable terms, developed strong interest from multiple equity sponsors, and assisted the Management Team in selecting the sponsor that best matched their own objectives.
Results
Frontier served as advisor in assisting the Management Team in obtaining $12 million in equity and $39 million in senior and subordinated debt from Jefferies Capital Partners and other capital partners, as well as worked with all of the parties involved in the acquisition toward the accomplishment of a successful closing.